UDO UDO2 Disk Transfer and Convert Files Jukebox Library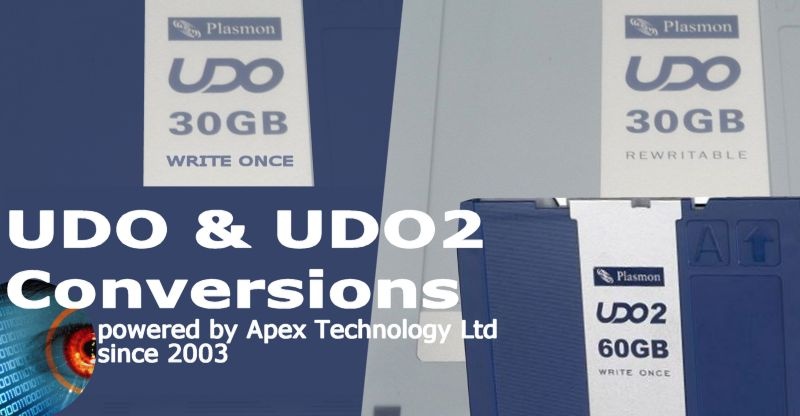 UDO Disk Transfer
UDO 30GB or UDO2 60GB Disks need converting? We can transfer your Optical Disks to recover the data, read the disks and save the data in alternative formats. This includes UDO Optical Discs used in Jukebox Library Storage.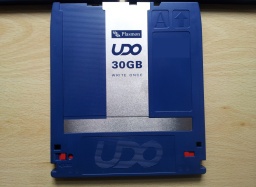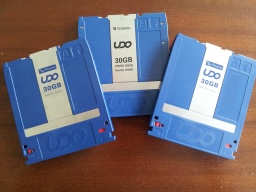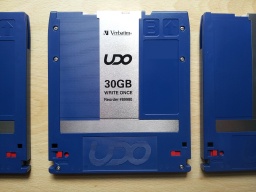 UDO & UDO2 Disks Conversions
UDO and UDO2 optical disc storage media cartridges have 30GB and 60GB capacities and are branded Plasmon, HP, Verbatim, IBM, Xerox, Maxoptix, Alliance Storage Technologies (ASTI), Mitsubishi Sony. UDO disks can be Rewritable or WORM Write Once media. The WORM devices use their own proprietary filesystem which we can usually decode to extract your files to say a Windows Formatted USB hard drive. The disks are used in document archive systems like Pegasus InveStore v4.5 and v5.0. There was a plan in early stages to develop a 120GB disk, however we have not yet come across such media, and it is likely that the fall in price of hard disk drives has made this obsolete. The optical discs are and used in computer archival backup systems such as COLD storage, whereby the bulk of document storage is transferred to Optical disks for long term archiving, so freeing up hard disk drive storage for more recent work. Cartridge Size 5.25 inch or 90mm.
Click for UDO Disk Transfer & Data Recovery News.
Click for UDO Disk Transfer & Data Recovery Reviews.
UDO & UDO2 Disks for transfer, conversion or data recovery
We can deal with stand alone disks or those in Optical Disk Library and JukeBox ...
HP Q2030A 30GB Write Once disks
HP Q2030A 30GB Write Once disks
HP Q2031A 30GB ReWritable disk
Plasmon UDO 30GB disk
Plasmon UDO2 60GB ReWritable disks
Plasmon UDO2 60GB UDO60W WORM disks
Plasmon UDO60WO 60GB UDO WRITE ONCE
Plasmon 60GB UDO2 Rewritable Cartridges UDO60RW
Plasmon UDO-R 30GB
IBM 59H5629 60GB Optical Disk Cartridge Rewritable R/W
IBM 23R2568 30GB OPTICAL WORM UDO DISK
Verbatim UDO 30GB 89982 RW Rewritable
Verbatim UDO2 60GB 96279 60GB Rewritable
Mitsubishi MUDWO30G 30GB Write Once
Mitsubishi MUDW060G 60GB
Mitsubishi MUDR030G 60GB ReWritable
Mitsubishi MUDR060G 60GB ReWritable
MediScribe Certified Medical Grade UDO 30GB Rewritable
PDO UDO 30GB WRITE ONCE Disk
Xerox UDO30GBRW Optical Disk 97-0852-000
The disks use Phase Change recording is a none magnetic disk (unlike Magneto Optical, MO, or MOD disks), UDO Media Codes
Write Once UDO30WO UDO60WO
Write Once Barcoded UDO30WOBAR UDO60WOBAR
Rewritable UDO30RW UDO60RW
Rewritable Barcoded UDO30RWBAR UDO60RWBAR
UDO Optical Disk Drive and Jukebox Storage Libraries(includes HP StorageWorks & Surestore families)
HP Optical Disk Drive 30ux HP Optical Jukebox 2300ux HP Optical Jukebox 700ux HP Optical Jukebox 3800ux HP Optical Jukebox 1000ux HP Optical Jukebox 7100ux HP Optical Jukebox 1000ux HP Optical Jukebox 1100ux HP Optical Jukebox 1900ux HP Optical Jukebox 2300ux
UDO & UDO2 Optical Disk Library and JukeBox Plasmon G Gx and IBM 3996 Archive Appliances
UDO Archive Appliances also known as Plasmon G Series libraries
G-Series libraries - G164 G238 G438 G638
Gx-Series libraries Gx80 Gx174

Plasmon G Series libraries can be used with IBM Power Systems, System i, System p, and System x servers. They can be a mix of MO disk and UDO disk readers. ASTI Plasmon library can be configured with Magneto-Optical (MO) drives as well as UDO drives.

IBM 3996 Optical Library use UDO 30gb, and UDO2 60gb disks depending on the UDO drives installed. IBM 3995 used standard MO disks which are sometimes migrated to IBM 3996
There are three models of the 3996 Library with various storage slots:
Model 032 has 32 Optical disc cartridges
Model 080 has 80 Optical disc cartridges
Model 174 has 174 Optical disc cartridges
IBM3996 can be used with System i, System p, and System x servers

Archive Appliances: AA Express, Gx32, Gx80, GxG174, G64, G104, G164, G238, G438, G638, AA16, AA32, AA80, AA174, AA238, AA438, AA638, AA876, AA1076, AA1276


Typical Disk error messages

Disk not Formatted error.
Disc not Formatted error.
Please insert a disk
Abort Retry Ignore
Disk unreadable
Do you wish to format this disk


Optical Disk Operating Systems and File Systems include

Apple Mac HFS HFS+ MO Disk CD DVD Transfer
Windows NTFS
DOS FAT FAT32
Linux Ext2 Ext3 etc..



UDO Disk Transfer
UDO Disk Transfer problems that we recover data from are listed below.
UDO conversions, UDO2 conversions, UDO2 disk transfer, UDO disk transfer, UDO data recovery, UDO2 data recovery.
We recover data from UDO & UDO2 Disks and Jukebox Library. Includes auto-changer,WORM, Plasmon, Verbatim, File Archive Systems.

For further information on UDO Disk Transfer see this info