Convert Audio Music Disks and Files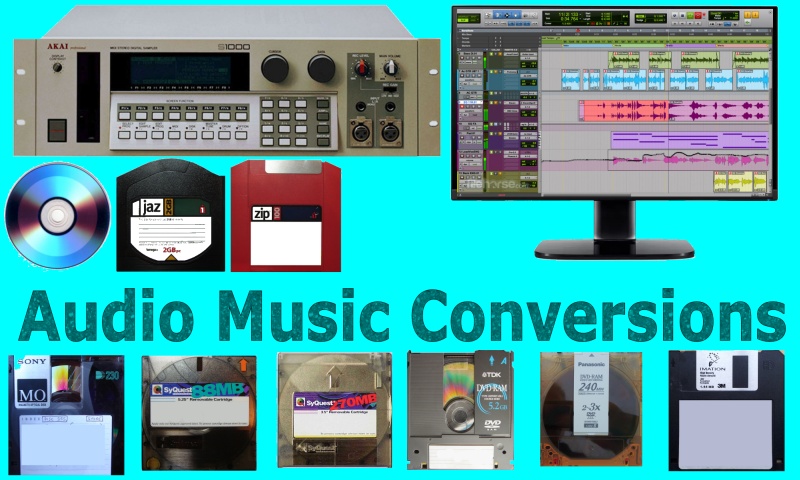 Music Audio Disk Transfer and Conversion
Our friendly team is happy to help convert your old Music and Audio disks for opening and import to modern versions of Pro-Tools, Logic Pro, Cubase, Audacity editing software on Windows and Apple Mac.
Files may come from old disks, Akai Midi Audio Samplers, or previous versions of Cubase, Apple Logic and Pro Tools, Hyperprism, Emagic, E-MU 3 - just contact us if you don't see your problem mentioned as conversion ability increases all the time.

A list of disks we often see is below.


MO disk 230MB 640mb 540mb 128mb 1.3gb 2.3gb
ZIP, ZIP100
Jaz 1GB 2GB
DVD-RAM 9.4GB 5.2GB 4.7GB 2.6GB
Optical disk 230MB 128MB
3.5 Floppy
Syquest 230MB 88MB 44MB 128MB
SCSI
Hard Drive
CD-R CD-ROM
Disk Conversion and Transfer requests
A list of typical enquiries for disk Conversion, Transfer, and Import is below.

Convert Pro-Tools music files to WAV audio.
The files on the disk were Pro Tools Audio, Sd2fPTul, otherwise known as SD2 filescreated by PTul, and required conversion to WAV for importing into modern Pro-Tools on an iMac
Retrieve audio samples from Emu 6400 Ultra ZIP 250mb disks and burn to CD.
Convert EMU3 music files on Jaz and Zip disks to .WAV files
The DVD-RAM disks were HFS formatted on an old Mac. They wanted to re-assign the original metadata/file extensions etc in order to open each album track/song in Pro Tools
ZIP disk from Akai S1000 sampler files convert to .WAV audio
Convert Akai Music Sampler (3000xl etc) to Windows PC Wave files
The files needed conversion to WAV so we could remix the whole album.
Jaz and Zip Disk Transfer . The band are currently rebuilding the songs for re-publishing.
We have Jaz disks (pro-Tools) and 1 x Zip (Akai S3000 sampler) disk that I need to retrieve the data [music files] from to load the files into 2020 iMac with Logic Pro X.
The files were from Pro-Tools Audio on a Mac and the disks were HFS formatted. The data needed exporting to WAV.
The SD2 files have to be converted to WAV.
I have a Verbatim DVD-RAM 9.4GB double sided disk from 2003 that has a pro tools music project on it.
The band are going to publish the recordings on Vinyl and needed the digital audio and tracks.
Transfer Jaz 1gb disk containing Apple Logic files from a recording session I did in 1997. The files didn't have an 'wav' or 'aif' suffix but needed saving as WAV extension.
Retrieve Cubase song file data from an old 3.5 inch floppy disc saved from an Atari ST computer
Data recovery from old disks of music samples, which I needed to retrieve the data.
Magneto-optical disks (230 MB) and SyQuest ezflyer cartridge (230 MB, Mac formatted) from Roland S760 S770 Akai S2000 S3000 audio music samplers and need files converting to Wav or mp3 audio.
Convert Optical Disk used in Akai Sampler
Transfer MO Disk from Akai S2000
Pro-Tools not importing old SD2 files
Logic Pro not recognising SD2 files - possible metadata problem - convert files to WAV
Trouble importing old Pro-Tools Audio Files to Logic Pro X
Convert .sd2 Pro-Tools Audio Files to WAV for importing into Logic Pro
Convert WAVE EMAG Audio Files to WAV
Convert Sd2f JARO Audio Files to WAV
Convert Sd2f Sd2a Audio Files to WAV
Convert Sd2f PTul Audio Files to WAV
Convert EMU3 Audio Files to WAV
Sd2fPTul


Music Audio Disk Transfer and Conversion
Music Audio Disk Transfer and Conversion problems that we recover data from are listed below.
Pro-Tools, Logic Pro, Logic Pro X, Cubase, Akai, Sampler, Disk, WAV, Midi, Files, Audio, Music, Session, Project, MO, Optical, Zip, Jaz, SCSI, Hard drive, Apple, Mac.
Convert Transfer Import Music Files from Digital Audio Samplers and old Apple Mac Disks.