Pegasus Investore Conversion, Transfer and Data Recovery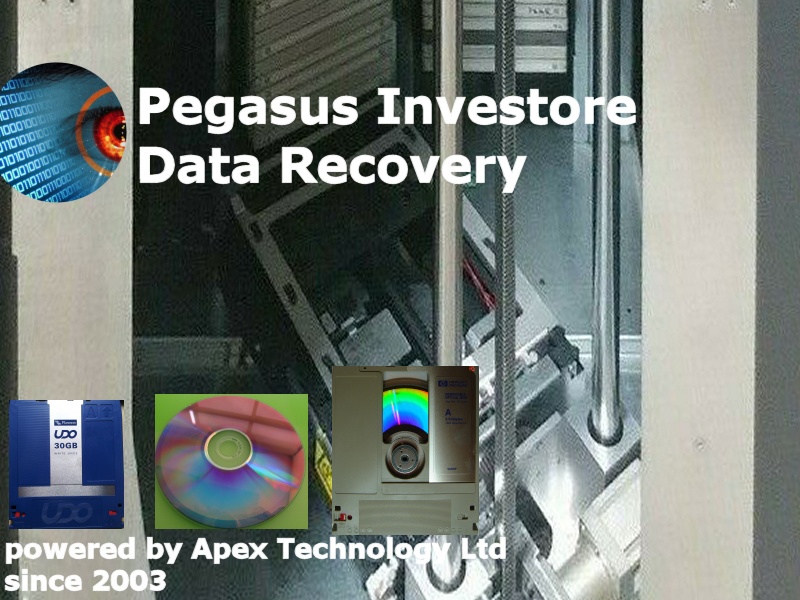 Pegasus Investore Conversion, Transfer and Data Recovery
We can recover your data from The Pegasus Investore system. We can provide conversion to allow easy access to the files via normal Windows or Microsoft Office software eg PDF viewers, TIFF image viewers, Word, or Excel, without the need for a special program, application, or licence dongles, for the purpose of interoperability. Most clients require a conversion or data recovery service when the drives have failed and they have attempted repair on the Plasmon Library or Jukebox. Trying to find a repair service for the Pegagsus Investore system is costly and not always successful. As part of the clients long term data access security they often approach us to transfer the data from the disks to ensure business continuity. We usually save the data to a USB drive Windows formatted NTFS, from which the client can extract to say a network share folder or migrate to a NAS Drive file server for distributed company wide access.


About The Pegasus Investore System
Investore is a Scanner Document Management System which assigns a unique ID number to scanned paper files, and saves them as a PDF or TIF image. The image is encrypted or encoded and saved to Optical Disks or Hard Drives. If it is using Optical disks, then most likely an Optical Disk Library, Jukebox, or Auto-changer is involved which can have several MO or UDO drives inside to read the disks. A proprietary filesystem is used on the disks. The filesystem is classed as WORM and uses DVD, DVD-RAM, DVD-ROM, MO, Optical, Bluray and UDO disks with drives physically connected via SCSI interface cables. The system can use Hard Drive storage and software known as InvestorHD. Symantec's NetBackup and Veritas Enterprise Vault can use Plasmon UDO library controlled by the Pegasus InveStore software. The software has been run on Windows NT, Windows 2000 or Win XP, and typcally uses Plasmon G Library Jukebox. Drives may be from ASM, Disc, DSM, HP, IBM, JVC, Maxoptix, MDI, Panasonic, Plasmon, Powerfile and Sony. The Pegasus-AFS is a popular archive file and volume managers used by in document storage and retrieval systems. It was even used by Boeing to control the storage retrieval of all critical testing records of the Space Shuttle Main Engine program.


List of Data Recovery Isuues with the Pegasus Investore
Below is a list of typical issues we have been involved with in the recovery of data from the Pegasus Investore system and it's archive storage disks.
HP StorageWorks Optical Jukeboxes - Not Able to Write to Worm Media with Pegasus Management Software.
After replacement of an Magneto Optical Disk Drive Pegasus Management software was not able to write to Worm Media.
Repair to the Optical Disk Jukebox have not worked so now need to recover the data from the disks
Recovery of data from Plasmon UDO 30GB after we could not fix the jukebox
When a disk is inserted in the drive of my Plasmon G24 UDO Jukebox it blinks a lot, but does nothing, disk not mounting or reading.
I need to migrate the data off the Plasmon Jukebox to a new network storage server




List of Software That uses Pegasus Investore

Below is a list of data storage management software that utilises Pegasus InveStore software to create a virtualized data pool of disks.

CaminoSoft's Managed Server HSM software.
ASACA DVD-RAM based TeraCart series of libraries with InveStore version 4.11.
VERITAS NetBackup and DVD
JVC 4.7GB and 9.4GB DVD-RAM MC-8000U Library removable optical storage.
Nexsan's Assureon Secure Storage Solution.
Evertrust InveStoreACE.




Pegasus Investore Conversion, Transfer and Data Recovery

Pegasus Investore Conversion, Transfer and Data Recovery problems that we recover data from are listed below.
pegasus,investore,UDO,optical disk,verbatim,plasmon,30gb,MO,BluRay,scanned,document,File,Storage,Archive,conversion,pdf,tif,tiff.
We can recover and convert files from the Pegasus Investore Scanned Document system to PDF or TIF. Data is transferred from Optical Disks (MO or UDO) in the Jukebox Library.