3.5 MO disks including MOD transfer and conversion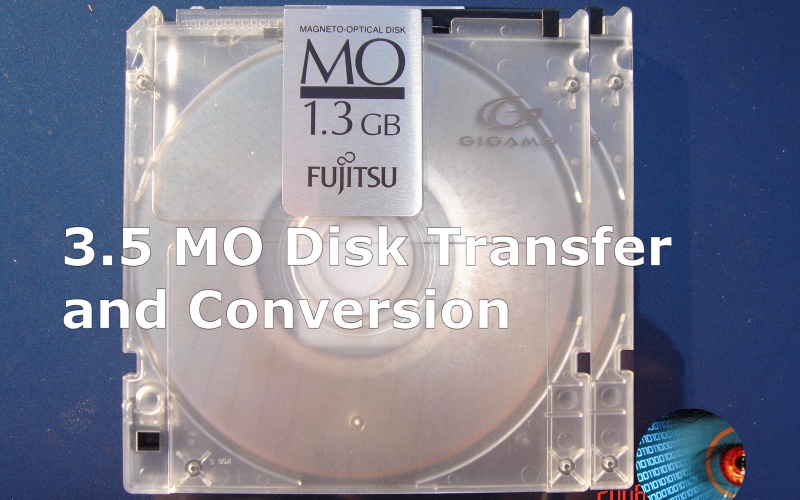 Recovering data and files from 3.5 MO disks
We can read data and copy files from 3.5 inch MO (Magneto Optical or MOD) disks. These disks are also known as Gigamo or 90mm discs. The data can be saved to usb memory sticks, Hard drives, digital upload/downloads, or other optical disks such as CD or DVD.
Transferring MO disks
In most cases they are simply used as archive storage or backup media for Windows, Unix, Linux and Apple Mac computers. They are also used in file storage systems such a electronic document scanner systems, DFDAU (digital flight data acquisition unit), Flight Data recorders (ie aircraft blackbox in Boeing and Airbus ), Panasonic Electronic Filing Systems. A list of recent MO disk data recovery work we have undertaken is below.
Reading an Optical Disk which works with DFDAU P/N 2233000-825 for the readout data.
Transfer Akai and Roland S760 S770 S2000 & S3000 audio music sampler file system backup.
Copy 540MB Optical Disks 3.5inch to USB memory stick. The disks models were Fujitsu and Mitsubishiand no longer had the drive to read these disks so needed transferring.
Retrieving information from Maxell and Sony 128mb MO disks.
Amiga 2000 128MB MO disks (2 off) written to in 1993 using an Amiga computer probably running AmigaOS 2.0 ( Kickstart 2.04 and Workbench 2.04 ).
Verbatim Optical 230MB 3.5 inch MO disk with 100 MB of data on it that needed transferred to a CD or uploaded to an ftp site.
230MB Verbatim MO Disk transfer files & data to CD or DVD.
3.5" 540MB Maxell Magneto Optical MO Disc Transfer.
Akai file system backup 3000xl audio music sampler Verbatim 230MB MO Disk.
230mb MO disk for transfer to CD.
Trasfer 4off 640MB MO Disks to USB.
Recover MO discs used by our researchers to access an old database.
Transfer Apple Mac Formatted MO disk which the customer no longer had the drive to read.
Panasonic KV-F521, KV-F521U, KV-F520 and KV-F52 Electronic Filing System MO disks.
Transfer DIP Document Image Processing System MO disks.
Mac HFS formatted 230mb verbatim MO disk transfer.
MO640 Teijin 640MB MO disk for transfer.
Transfer data from 90mm 230MB MO disks.
Data stored on 90mm 128MB MO disks, mainly Maxell MA-M128 and Sony Magneto Optical Disk M.O.128MB. These were used with a Panasonic electronic filing system model KV-F510.
Optical Disk transfer for Flight Recorder from Airbus A330 aircraft. A Penny and Giles Aerospace the Optical disk tape was a Maxell Macintosh Formatted 230MB MO disk
Panasonic Electronic Filing System discs full of document scans to be converted to pdf or tiff files. The document scanner was a KV-F520.TDK MO-128 MO-R128 and Panasonic LM-D300 128mb
Converting 640MB MO disk to DVD-ROM media.
Data recovery from 230mb MO disks as customer no longer had drive to read them.
SONY Macintosh Formatted M.O. DISK EDM-230MFB 230mb file transfer.
Recover stitching sewing pattern data from Shima Seiki Magneto Optical MO Disk SMO-230 that became corrupt
3.5inch or 90mm MO disk makes and model numbers
We recover data from disks made by Sony, Verbatim, Mediscribe, Philips, Plasmon, Fujitsu and Mitsubishi. They range in capacity up to 2.3GB, with common sizes being 128mb, 230mb, 640mb, 1.3gb and 2.3gb. These disks have a metal slider protecting the optical data recording surface. They are usually single sided.
Recovering data and files from 3.5 MO disks
Recovering data and files from 3.5 MO disks problems that we recover data from are listed below.
Transfer MO discs, read files and copy to USB hard drive, including Document Scanners, Aircraft Flight Data Recorders..
We read and transfer files from 3.5 inch MO Magneto-Optical Disks. We also recover data from corrupt discs, document scanners, and flight data recorders.

For further information on Recovering data and files from 3.5 MO disks see this info