Plasmon Optical Disk Convert File Transfer WORM Write Once Disks 5.25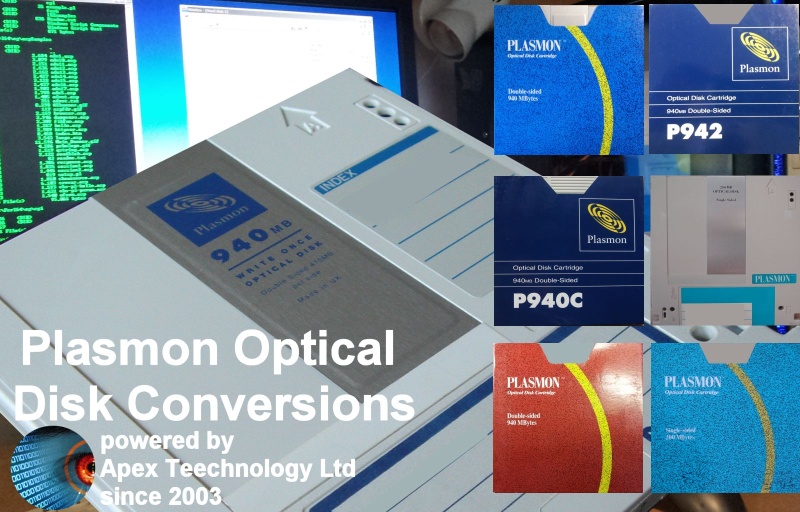 Plasmon Optical Disk Conversions, File Transfer and Data Recovery
Our friendly team is happy to help transfer files from Plasmon Optical Disk Cartridges WORM and ReWritable. We can read the data and extract files for copying to hard drive / CD / USB / DVD. The Plasmon optical discs numbers are...
P201 Single Sided 200MB
P470C
P471 470MB Moth-eye WORM
P940C 940MB WORM 5.25" Phase Change Media (Double Sided)
P942 940MB Moth-eye WORM
P1002E 1.0GB
P1400C 1.4GB
P1402 1.4GB Moth-eye WORM
P1500E 1.5GB Rewritable 5.25" Phase Change Media (Double Sided)
The Plasmon disks were available in with capacities 200MB single sided,200MB 940MB 1.4GB 1GB 1.5GB, and were available as WORM (Write Once Optical Disk Cartridge) , ReWritable, Double Sided with data size 470MB/Side, 500MB/Side 700MB/Side 750MB/Side. By far the most common disk we see is the P942, P940C, P201 and P1500E. We sometimes get the P470C, P1400C, P1402 and P10002E. All the disks were often used with Corel Backup Software to create or simulate a DOS like partition in Windows computers, Novell, early Apple Mac G3 G4 PowerPC PPC computers. The disks are compatible with Plasmon's RF Reflection Series drives and jukeboxes and Panasonic's LF series Phase Change drives. The disks were re-badged and used in Magstore, Storage Dimensions, MAXIMUM Duetie, Bio-Logic, Corel PRO Drive, Reflection Systems and IBM 3363 WORM Write Once Optical Disk Cartridge system. Panasonic also sold the LF-J5000 jukebox which could store up to 50 discs with interface to Mac, Vax VMS, Unix, Xenix, and Micro Channel and Plasmon had their RF Reflection Jukebox.
Plasmon Optical Disk Cartridges
Disk Library, Optical Jukebox, Document Management and Operating Systems
Plasmon disks were used in Apple Mac and Windows / DOS PC, as well PCDOC, Document Image Processing Workstations, Electronic Filing Cabinet Systems, Document Management Systems (DMS or EDMS). Its was envisaged as hard disk backup, desktop publishing applications, and graphic imaging software. Apparently Corel SCSI allowed interface to Novell and OS/2 along with DOS. The disks could be read in Panasonic optical disk Jukebox LF-J5000 LF-J7000 and Plasmon RF-60J-703 Optical Jukebox (which could hold 60 disks).
Plasmon Jukebox models.
RF46J-680
RF52J-690
RF60J-703
RF60J-703-2
RF60J-704-2
RF92J-680
RF104J-690
RF120J-703
RF120J-703-2
RF120J-703-4
RF120J-704-2
RF120J-704-4
RF138J-680
RF156J-690
RF180J-703
RF180J-703-2
RF180J-703-4
RF180J-703-6
RF180J-704-2
RF180J-704-4
RF180J-704-6
RF240J-680
RF258J-690
RF300J-703
RF300J-703-4
RF300J-703-6
RF300J-704-2
RF300J-704-4
RF300J-704-6
RF10J
RF11J
RF20J
RF22J-703-1
RF22J-703-2
RF22J-704-1
RF22J-704-2
RF30J-703-2
RF30J-704-2
RF47J
RF60J
RF25J
RF26J
RF30J
RF40J
RF7031
RF704
Panasonic Jukebox models.
LF-J5000
LF-J7080 50GB 50 Slots
LF-J7322
LF-J7322A 20 disc MULTI MICRO
LF-J7324 24 disc
LF-J7324A
LF-J7324AN
LF-J7324A 16 disc
LF-J7328 28 disc
LF-J7328A
LF-J7328AN
LF-J7330
LF-J7350 50 disc optical disk auto changer
LF-J7350A
LF-J7350AN
LF-J7360
LF-J73120
LF-J73180
LF-J73300
WORM Disks
WORM disks are Write-Once Media, as opposed to being Rewritable. The WORM disc could be recorded just once, but read many times in an optical disc drive. The 5-1/4 inch WORM media have a data retention of only around 30 years so it is probably best to get the data off them before the discs start to deteriorate and show errors or give trouble reading in the drive. Plasmon Cartridges employ WORM filesystem and used Corel software and had signatures like IBM CRL2 CRL3 and CPK. WORM drives are useful for companies like insurance, banking and government agencies, since WORM drives meet regulatory requirements for saving data. Data on WORM cartridges can often be admitted into a court instead of the original document, since the permanence of the disk writing has been proven. A problem occurs with the WORM media in that any historical changes are recorded on the disk so occupying sectors that cannot be re-used for new data, When a file is changed, no matter how minor that change is, several new sectors are occupied on the disk to accommodate the newly amended file. In this way you can see how the disk would quickly get full in a live data environment such as word processing, billing systems, spreadsheets, time-sheet recorders, expenses and accounting processes.
Moth-Eye and Phase Change disks history
Plasmon introduced its first optical discs in 1985 - the so called moth-eye disc. Optical discs store data by either reflecting or blocking a laser beam. The motheye disc laser melts the moth-eye substrate turning its light absorption property to a reflector. The disks use phase-change technology developed in the 1960's. Phase change discs do not rely on magnetic influence as do hard disks and magneto-optic discs ie. MO disks. Plasmon's discs held up to 200 megabytes (MB) of data.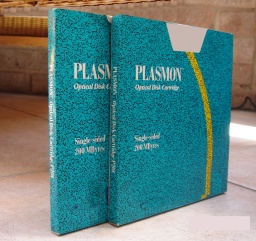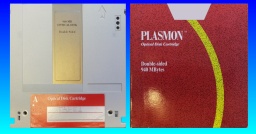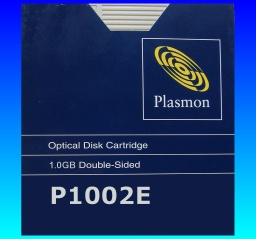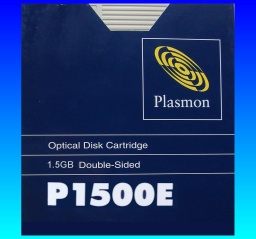 FAQs and Plasmon Disk conversion requests we receive
I am trying to retrieve data from some older discs.
We have some old Plasmon disks we cannot read
Can you copy data from Plasmon Disks to Hard Drive
The optical drive is working and will read and write data, but will not recognize existing data on older discs, it prompts to format disc
Disk not formatted when trying to access it.
I tried installing dos with scsi drivers and the optical drive, but the optical drive is not recognized by dos with a drive letter.
We have an old Document Management system using Plasmon disks we need to extract the files from
Our DIP Wordstation has files on we need to convert to PDF or TIFF (TIF)
Plasmon Optical Disk Conversions, File Transfer and Data Recovery
Plasmon Optical Disk Conversions, File Transfer and Data Recovery problems that we recover data from are listed below.
plasmon,disks,optical disks,p201,p470c,p940c,p942,p1400c,p1402,p1002e, p1500e,worm,rewriteable,file transfer,data recovery,convert disks,disk conversion,jukebox.
Plasmon Optical Disks Convert Transfer Files WORM p201 p470c p940c p942 p1400c p1402 p1002e p1500e,Recover Data,Data Recovery,Write Once,ReWritable.

For further information on Plasmon Optical Disk Conversions, File Transfer and Data Recovery see this info